Want some sort of lower front lip setup on one of my vans, something a bit like this:-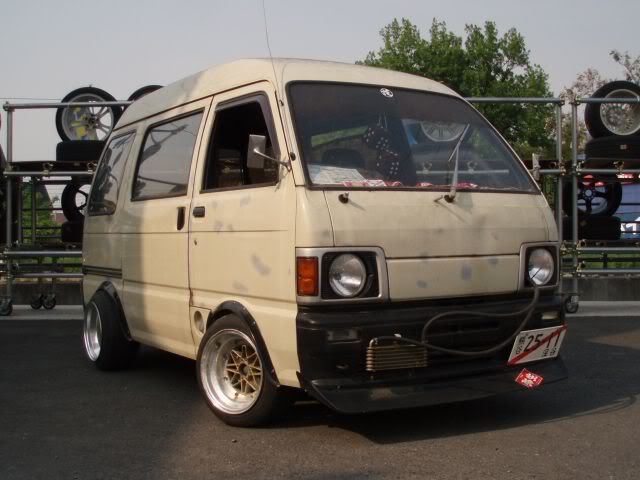 I was thinking about getting a rear spoiler off something and cutting it to make it fit the profile of the late spec hijet bumper, bonding it all together then colour coding the whole bumper.
Anyone got any ideas for what might work or other serving suggestions?
you could go with thin ply and fibreglass wrap it.

Logi

Jet Warrior




Posts

: 3655


Join date

: 2011-04-07


Age

: 82


Location

: Kilmarnock



That suzuki wing could work, the shape is ace!

Thing is I don't want to use a fibre glass product as it'll get beaten up, I'd like to find a second hand original plastic or rubber spoiler off something I can chop up.
Last edited by HighlyJetted on Sun Oct 21, 2012 6:04 pm; edited 1 time in total
I'm surprised at you, Logi - that's a lot to shell out for a bit of plastic! Stlll, not your £££ I guess.
I'm sure you know plenty of places you could take HJ and he could get a split lip for nothing


PFM

Jet Addict




Posts

: 1513


Join date

: 2010-04-24


Age

: 57


Location

: East Sussex



I'm sure if I called out on facebook "who wants to punch me in the face" i'd be flooded with replies.
I make friends and enemies weekly, thats the only problem with speaking your mind and being an over opinionated know it all little toe rag

I know loads of nice places too you know, some within crawling distance of hospitals..

HJ's loaded anyway

So how about this?
http://www.ebay.co.uk/itm/VOLKSWAGEN-GOLF-MK1-GTI-DUCKBILL-FRONT-CHIN-SPOILER-/160809041696?pt=UK_CarsParts_Vehicles_CarParts_SM&hash=item2570f73f20

Logi

Jet Warrior




Posts

: 3655


Join date

: 2011-04-07


Age

: 82


Location

: Kilmarnock



HAHAHAHAHA!!!

Now am I laughing at your petty ribbing

Or that some Vdubber head would pay £40 for a 25 year old scruffy spoiler

---
Permissions in this forum:
You
cannot
reply to topics in this forum