hi i realy hope some one can help.. i have a 3 cylinda 998 hijet van.. iv replaced the head gasket and also had the head skimmed nice and flat... she runs lovely and doesnt over heat but the oil starts slowly filling up the rad ???.. it sounds like a cracked head or block but not sure.. please help


pocket rocket

New Member





Posts

: 1


Join date

: 2012-11-18



Sounds like a cracked head or block to me too

Also some engines have a heat exchanger next to the oil filter to keep the oil cool, that could be at fault too.
For Poket Rocket,
Have resolved your mistery of oil in coolant?
I have same problem: I have a porter piaggio with cb42 motor,have just change and skimmed the head gasket and have oil in water cooling again.My mechanic have dismounted the engine a second time,i have changed the block ( i have one used in garage ) and again oil in water...is impossible that the block changed have the same problem
Thanks
Claudio,Italy

claudiobroggi

New Member





Posts

: 3


Join date

: 2011-12-31



As I posted earlier, the heat exhanger on the oil filter assembly could be cracked or rotten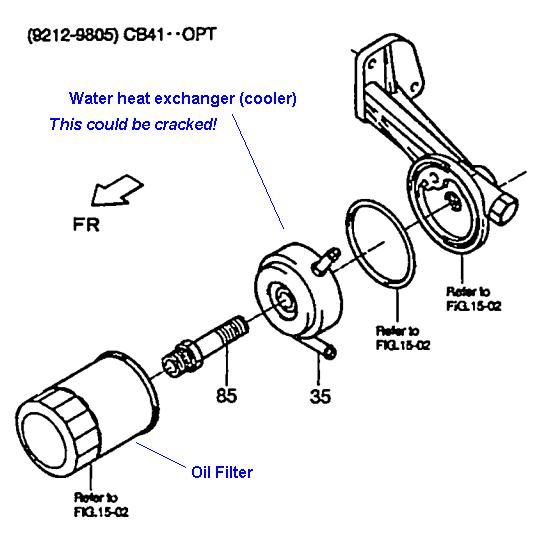 Otherwise it's most likely a cracked cylinder head. My bet would be somewhere on the rear combustion chamber near the exhaust valves as thats where they get really hot. I would seriously doubt the block would crack and cause this, if the cylinder liner in the block cracked you wouldn't get oil in the water, just combustion gases in the water. 3 cylinder CB Charades are bad for cracking the heads - cb70 cb80 engines - but they are turbo charged so they get really hot.
May be the exchanger heat on oil filter is optional because I not have on my cb42 engine.
Mechanic have make idraulic test on head,on 60 degree and 6 bar without find problems
Another mecha say me that this test is valid only at 70% ,the head assembled and tighten have another behavior.May be the head cracked....

claudiobroggi

New Member





Posts

: 3


Join date

: 2011-12-31




---
Permissions in this forum:
You
cannot
reply to topics in this forum