Ok so I'm having a mammoth hijet workshop session this weekend and changing the following:
* timing belt (changed 15000 miles ago but that was 2 years ago and I have to remove it anyway)
* fan belt
* water pump
* thermostat
* rad caps
... and obviously flushing the coolant system
I have owned the vehicle from 14000 miles and I know that at 68000 miles as it is now that the coolant has never been changed. This is only because I know what a can of worms this coolant system is! Unbelievably the coolant looks fine and is still a lovely pinky red colour and all the caps are shiny and crust free where they seal (I really was surprised!). Now loathe as I am to disturb a working system, I really feel that I cant leave it any longer as I am concerned about something failing on me. I will be following HJ's thorough procedure on the owners website.
As well as this work I intend to adjust the valve clearances and adjust the ignition timing. I have never done either of these operations (hangs head in shame!). This leads me onto my question about the igntion timing. Here is the extremely helpful extract from the workshop manual:
[img]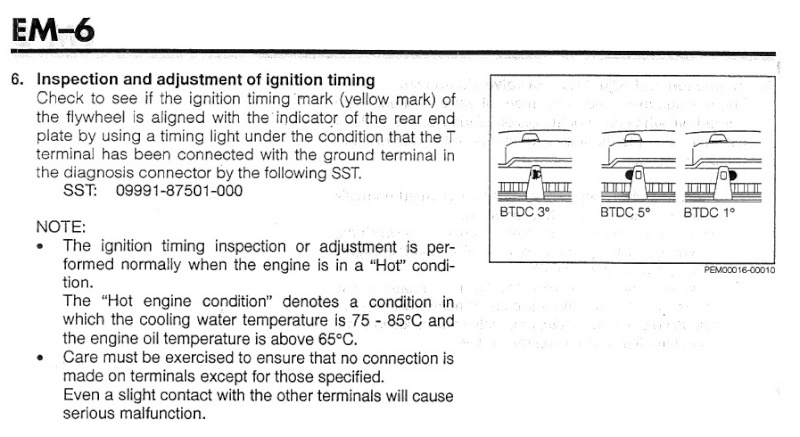 [/img]
I have a draper xenon timing gun:
[img]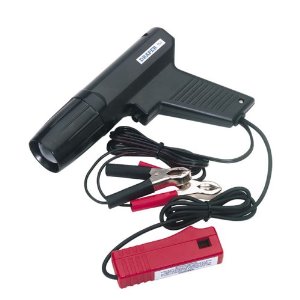 [/img]
and I don't know where to connect the terminals to. Can anyone help me please?

xxemaphorr

Centurion




Posts

: 173


Join date

: 2010-04-08


Age

: 33


Location

: Scunthorpe



do you have a 993 or 1.3?
as for the timing light the red goes on the positive battery teminal the black on the negative you may find that a spare battery is easier to use.

Personally I time by sound but do have a light to check by if needed.
sorry yeah its a 1.3. The warning about connecting incorrectly can cause serious damage had me a little concerned so I thought I'd have a check on the forum. Is it really that straightforward? What does it mean by the T terminal?

xxemaphorr

Centurion




Posts

: 173


Join date

: 2010-04-08


Age

: 33


Location

: Scunthorpe




xxemaphorr

Centurion




Posts

: 173


Join date

: 2010-04-08


Age

: 33


Location

: Scunthorpe



yes it's that easy. you will probably find it doesn't need adjusting though

---
Permissions in this forum:
You
cannot
reply to topics in this forum