Hi, I purchased a 1999 Daihatsu Hijet 1.3efi pickup last year with the intention of making it into a little truck which I could use to pick up and recover non running motorcycles for repair as I run a small repair shop. It was a fridge van with a chiller box on the flatbed when I first got it, I removed the chiller unit which was mounted to a sub frame and sold it to a guy who mounted it on a trailer and he converted to 240 v. I put 18mm plywood on the flatbed attached to the sub frame (I will post photos shortly)
I have been using it to recover motorcycles by towing a m/c trailer but it been an on going project to have capability to mount on the flatbed. To this end I welded up a frame and fitted it to rear of the sub frame which extends the bed to 7'6". I mounted a bracket on it to locate the rear m/c wheel and attached a front wheel holding bracket to the bed which locates the front wheel just behind the cab. This bracket is quickly removable (one bolt as it mounts on an adapter plate. Its a little difficult to put a bike up onto it but once there it works very well.
As it used to have a chiller on rear it still has a belt driven pump fitted which used to pump the freon through the refrigeration system. I have now attached air line hoses and it now works as an air compressor pump. I add a little oil to through the intake port. I intend to shortly add an air reservoir to increase it efficency. I will give you an update how I get on. The pump has an electric operated clutch so it can be switched off and on by an air pressure switch.
Hope this has been of interest, will post some photos shortly and post updates.
Mike.
[img]
[/img]
[img]
[/img]
[img]
[/img]
[img]
[/img]
[img]
[/img]
[img]
[/img]
Last edited by bucketsandshims on Sun Mar 24, 2013 3:48 pm; edited 3 times in total

bucketsandshims

New Member





Posts

: 4


Join date

: 2013-03-24


Age

: 63


Location

: Bangor, County Down, Northern Ireland




another biker/hijet owner.... There are a few of us about.

leopard_pagan

Admin




Posts

: 1105


Join date

: 2009-09-21



What an interesting conversion, a motorbike recovery truck. That would get approved of by many a forum member

You should be able to make a little beaver tail for it, you might want to alter the rear chassis strengtheners so you can get height of your flat bead lower as getting a bike up there is quite a task. Maybe a winch would help.
Wonder how long your refrigerant pump will last? Good use for it though, blowing up tyres and stuff.
Welcome to the forum

More bikeyness,

Tho tbh i find the van adequate for motorcycle recovery


Logi

Jet Warrior




Posts

: 3655


Join date

: 2011-04-07


Age

: 82


Location

: Kilmarnock



i got my CBR400/600 hybrid project in to the van i had at the time.. i know i can get my CBR400 in it. i'm 5ft tall & i can sleep flat out in the back with my feet against the tail gate & head just behind the drivers seat.
but i'll be fitting a tow hitch to the next one for all that stuff...

leopard_pagan

Admin




Posts

: 1105


Join date

: 2009-09-21



Yes, there is a big question mark on the pump's life as an air compressor pump, its lifetime may be short, it gets very hot very quickly and has already melted and blown the hose at the output twice. I 'm thinking of a solution, which may be to change pump for a standard air compressor pump with a oil sump (there appears to be room). But the electric clutch pulley may be tricky to swap over. The air compressor if it had a an air tank fitted would give capability to have mobile motorcycle tyre changing on rear and other general uses. I'll add a photo of the pump in situ. its on a frame facing the crank pulley (which has an extra position for the drive belt with the pump pulley above the crank pulley.
I may have a go at lowering the rear (beavertail style) if I can do so and still find a way of having a tow bar for a small trailer.
The CBR in the rear of the hijet van (i'm impressed), I didn't that would have been possilble.
M

bucketsandshims

New Member





Posts

: 4


Join date

: 2013-03-24


Age

: 63


Location

: Bangor, County Down, Northern Ireland



Very nice pictures, looks pretty damn tidy and a nicely done job.
If you take the whole pickup rear "floor" tray thing off it will become pretty obvious where you could gain the "low-ness". There is only one round tube pinning the rear of the ladder chassis together, and if you were to weld in the tow bar frame you could do away with this tube.
If you altered the tow bar horizontal beam and made it even lower, it would only be the fuel tank stopping you from being really low, and that could be easily padded down with some spacers.
Here is my chassis all naked:-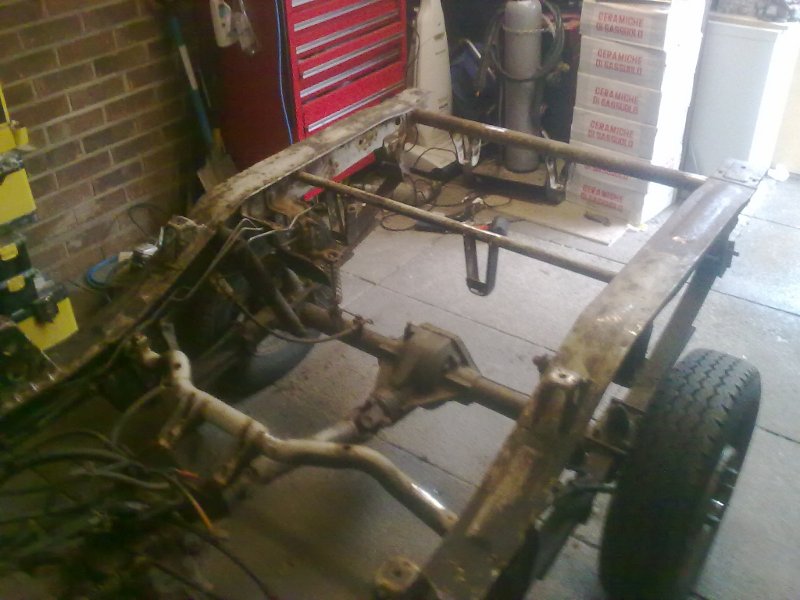 Mike
How come it's up for sale?

d1noh

Centurion




Posts

: 459


Join date

: 2011-03-13


Location

: In the middle



Hi, several reasons, I also buy the odd damage repairable car (cat c) need V.I.C. tested so need to tow a small car transporter. I now have a Daihatsu Fourtrak which is brilliant for this task. Too many vehicles at my house really. I'm also advancing in years (that date on my birth certificate is the problem) arthritus making getting size 11 boots in and out of little truck more difficult.
I've found the little Hijet to be very capable little vehicle, fun to own & well built but its now time for someone else to have it. My son has a 2000 van version, in his spare time converting to a sort of part time camper. He is into hang gliding and is able to carry a hang glider strapped to a ladder on the roof rack. (we'll maybe post pic's of it's progress) Mike.

bucketsandshims

New Member





Posts

: 4


Join date

: 2013-03-24


Age

: 63


Location

: Bangor, County Down, Northern Ireland



Looks Great and I notice you have a non standard Steering wheel also - any ideas what it is from and what is required to fit one?


Hi, I can recommend it, feels there is more room for driver. I couldn't find one for a hijet. The S/wheel is an 'ASTRALI'. There is always a few S/hand ones on ebay for sale in different diameters and styles. I cut the centre from orig. wheel, it's metal in the middle & rectangular, I rounded the corners & sliced off the grey plastic. I then removed the lower part centre boss from Astrali (it was only tack welded and was easy to separate) welded the top of boss (ie the circular plate with the six bolt holes) to the orig hijet boss with a suitable dia steel ring welded in the middle (sandwich like) & mounted the wheel rim to it. Hope this explains it, if you want i'll make up a drawing/diagram & post it here. (it's a lot easier than it sounds). The spacer ring is only needed to create a space above the centre nut to wire in a horn switch, my horn switch is the chrome push button (got on Ebay), The spacer ring I used was an old bearing spacer that was suitable size. M

bucketsandshims

New Member





Posts

: 4


Join date

: 2013-03-24


Age

: 63


Location

: Bangor, County Down, Northern Ireland




---
Permissions in this forum:
You
cannot
reply to topics in this forum