I've had a bit of an escapade with my battery this weekend but long story short, if my battery has been drained to the point where even with a jump there isn't enough juice to start the engine, is the battery completely shot or will it still service me after a full charge?
.....long story long,
I left my lights on at work on Friday (like a tool) and when I came back the battery had been drained to the point where the starter motor didn't even turn over and the dash lights wouldn't even come on (after 8 hours). I managed to borrow some jump leads from somebody at work (mine were quite typically with a mate) however even with a jump the starter would only just turn over. I ended up leaving the car at work and walking the 6 miles to/from the various train stations to get home. I picked up a new battery yesterday and returned to work today to find that low and behold, the battery that the guy at GSF assured me would fit had WAY too small connectors to fit onto the van. A bit of ingenuity with my now returned jump leads and some tape meant that I got the van home (see below) but I was just wondering whether I should exchange the new battery for one that will fit or whether my old one will still be okay and just get a full refund.
Also to add insult to injury somebody tried to get into the van as the drivers side lock wont open or lock and the slide door handle has been snapped.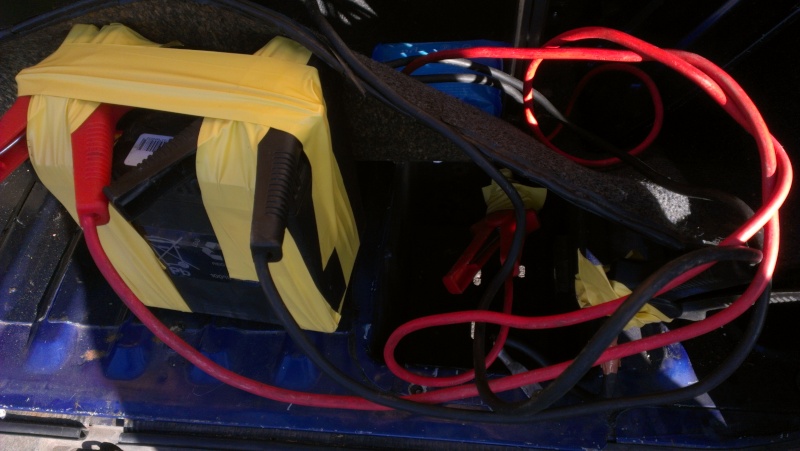 MattS

Clubman




Posts

: 39


Join date

: 2013-04-02


Age

: 29


Location

: Leeds



to me it looks like the - is on both neg battery terminals, take it to another earth point or disconect the - on the original battery while you are trying to jump

d1noh

Centurion




Posts

: 459


Join date

: 2011-03-13


Location

: In the middle



I don't think the image is that clear but I was just showing what I had to do to get the new battery connected and get the van the 15 mile drive home.

MattS

Clubman




Posts

: 39


Join date

: 2013-04-02


Age

: 29


Location

: Leeds



Aww mate what a saga.

Until you charge it and use it you'll never know for sure, but every time you fully discharge them they get shitter.

If the battery has been on it for a good few years then let it have a new one!

You can get terminal shims that increase the size of the connectors. I may have some if your struggling to find any.
The Japanese style terminals were considerably smaller- he has supplied the correct battery by the sound of things. What you are missing is the round lead split adaptors to bring them up to British size ones ( or Euro to be P.C. )
Your reply came through just as I was sending this HJ. Dont want it to look as though I was
poking my nose in your reply.

Ah that would explain it as I'd say the terminals on the new battery are almost half the diameter of the old batt. How hard to come by are the adaptors and how much should they set me back? and does it matter that the new battery is completely the different size (much taller but not as wide or long)?



MattS

Clubman




Posts

: 39


Join date

: 2013-04-02


Age

: 29


Location

: Leeds



Battery supplier should have them to chuck in on the deal I would have thought anyway.
the posts on my battery were small but the garage i got it from put the sleeves on no charge. it should be something they have knocking around

---
Permissions in this forum:
You
cannot
reply to topics in this forum