Aimed at the 1300 hijet engine, both pre 2001 and post 2001 (they have the same sensors)
Here is the test data you will need to ensure your sensors are working correctly, or not as it may be.
Coolant Temperature sensor
Coolant sensor is on the rear of the cylinder head next to the cam sensor, under the passenger sliding door of the vehicle.
The sensor is a 2 in 1 sensor - it is two separate sensors in one unit. Both an ECU sensor for fuel control, and a gauge sensor for the dash.
Fault sensor is known to cause stalling, poor performance, non starting from hot, high fuel usage.
Also the second half of the sensor, if it fails will cause the gauge to stop working.
You will need a multimeter set to Ohms.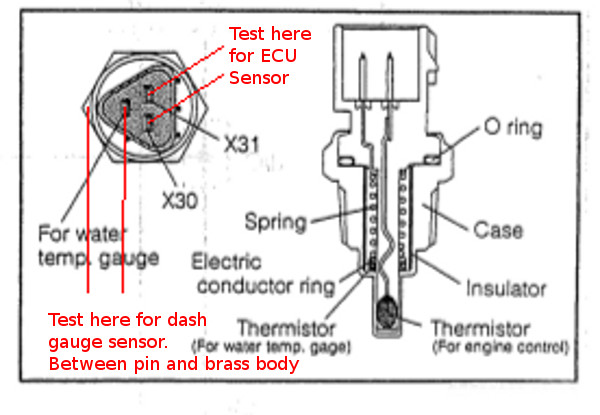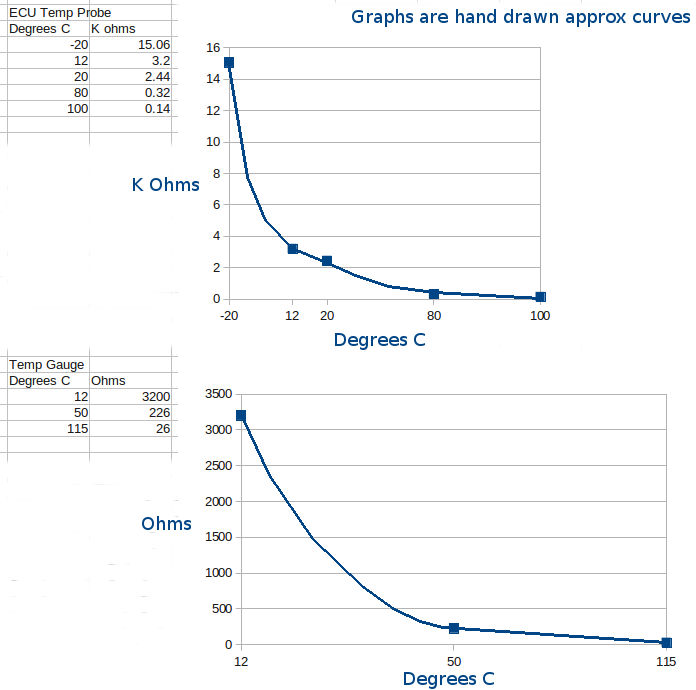 I get requests for temp sensors all the time, and to help people ensure they actually need to replace the sensor, I thought I would supply the above test data.
Last edited by HighlyJetted on Fri Oct 25, 2013 9:31 pm; edited 5 times in total
Let keep this test data together hey....
Cam sensor, on the rear end of the cylinder head.
You can get a cam sensor error code if:-
The starter motor fails to turn the engine over for one reason or another (flat battery, buggered, etc)
The cam belt has snapped
The cam shaft has snapped
The cam sensor is dead
Test the cam sensor by unplugging the connector,
Then with multimeter in Ohms setting,
Touch the probes to the pins in the connector.
Expect between 205 ohms and 255 ohms or there about.

MAP Sensor - Manifold Absolute Pressure
Measures the vacuum created the demand of the engine.
Faults can cause poor running, over fuelling, under fuelling and all related driving side effects.
MAP sensor is found on top the the throttle body, under the drivers seat.
Has a 3 pin connector - red and white wire is the signal that needs measuring.
Multimeter set to DC Volts
Put black probe on something metal and grounded like the inlet manifold, or ignition barrel etc.
Stab red probe into the Red and White wire.
With ignition turned on, but not running (lights should be on the dashboard)
Watch the voltage displayed is correct for you altitude - most English folk it will be around 3.3 volts to 4 volts
Start engine and watch the voltage drop, press the accerator pedal and it should increase back towards 3 volts approx

Finally the Throttle position sensor (well for now anyway)
TPS sensor is found on the end of the throttle body, on the opposite side to the accelerator cable.
Similar to the MAP sensor, running issues will be caused if faults such as hesitance, stalling, poor performance, etc.
Has a 3 pin connector - red and yellow wire is the signal that needs measuring.
Multimeter set to DC Volts
Put black probe on something metal and grounded like the inlet manifold, or ignition barrel etc.
Stab red probe into the Red and yellow wire.
With ignition turned on, but not running (lights should be on the dashboard)
With throttle closes (accelerator pedal up) voltage should read 0.4v to 0.8v
With throttle at WOT (accelerator pedal pushed to the floor) voltage should read 3.8v to 4.4v
Ensure the voltage sweeps smoothly from pedal up to the floor. Any big jumps or flat spots points towards worn faulty sensor.

Thank you so much for all that information Matt. That must have taken 
ages to prepare and finish at 1-47am this morning.
Your dedication to this site and selfless help is VERY much appreciated
by me and I am sure I speak for all our members in thanking you.
I had a problem with a 1300 at the weekend and with Matt's advice
I was able to find and rectify the rough running, stalling and non starting
from hot. 
When pulling away from standstill with a warm engine it would hickup
and then after further depression of the  throttle was OK. Stall or stop it
and it was a real pain to start and would only start by fully depressing
the pedal to the floor thus indicating to me that that the mixture was too
rich. Switch to LPG and it started and ran perfectly-- so problem lay with injection system.
I spoke with Matt and he suggested three things. ( I took his advice back in
April and bought an OBD 2 Scanner). As it hickupped on initial pedal depression check throttle position sensor by slowly depressing pedal to
the floor. Perfect reading so that was ruled out. Next I got a code for faulty
Temperature Sensor so that needed replacing -- but not yet. 
Next Matt said check the MAP Sensor reading with engine running and
the fluctuation in reading I was getting was between 32 and 36 on revving
up and down to 27 on deceleration of engine revs -- so MAP Sensor was suspect too.
First I put another temperature sensor in the back of the head( perhaps I 
could do with one too in my bonse) and then ran the engine up to top temperature when the fan cuts in then I slowly depressed the throttle pedal
and smooth as a baby's bum. (no comments from you perverts out there
either thank you.)
Next was the crunch--- would it start again being hot.?? YES YES YES !!!!
WONDERFUL !! 
Next job recheck MAP Sensor readings. Wow. Readings from 34 right up to
72 and back down to 27 on deceleration as before so MAP Sensor was OK.
Believe me you don't want to be buying one of those Postage Stamp sized 
boxes from Daihatsu at over £270 a go.!!  They are a complete pig to get at the screws on top of the manifold so I drilled two holes through the
 Cab bodywork above the screws and could undo them easi-peasi ( where
have I heard that before ) and remove and replace MAP Sensor a doddle
although in this case I didn't need to.
So thanks to Matt's expertise I had one VERY VERY Happy Customer
who could now go on his two week holiday to Devon with no worries of
breaking down. He asked if I liked Clotted Cream or Scrumpy and YES was the definitive answer to both questions. 
He has promised to bring back from Devon a huge bucket of Clotted Cream
and a 45gallon drum of Scrumpy. Trouble is how the hell can I send half of that up to you Matt in Crewe ? Fancy a trip to the Isle of Wight Matt ??


Yep, took me about an hour in total, but I keep sending people bits of test data, so instead I can just send them a link.

Thing is, most people are blissfully unaware of the scary wires that make their van work.

And even you Woody prove, that even an old codger can actually fix an EFi system with a slight point in the right direction.

It certainly isn't about spend £3000 on the latest snap on diagnostic scanner than no one in the garage really knows how to work fully.

Give me a couple of days or maybe a week and I'll put together the same info for the 993cc.
Thanks sonny!!! Make sure you bring a note from your mum next time 
you stay up that late.




---
Permissions in this forum:
You
cannot
reply to topics in this forum