Hey everyone,
As the Tardis (1.3 1999) is about to tick over 50K i thought that she is due some serious TLC as I have been both incredibly busy and incredibly skint over the summer she's been pretty neglected.
I thought I post this here to try and document everything as I've never really done anything more serious than change the oil and plugs / fiddled with bits of trim, however I want to do as much as possible myself so I'm probably going to be picking your collective knowledge if you all don't mind

First port of call is the exhaust which in the past month or two has gone from a bit loud to downright embarrassing. On visual inspection I can't see any major holes/rust apart from what I assume a heat shield on the Cat box which has come loose and is the cause of a significant rattle, however from the level of noise I guess the internals of the silencer must be rotten. I'll post pics below in case I'm missing something but Im pretty sure I'll need a new exhaust. From looking around the ones on ebay i'm looking at £103, is this something I can fit myself or how much will this cost me to get fitted?
Secondly from reading old posts I think the top strut bearings have gone as there an unpleasant noise when on full lock on either direction and after full lock the van will pull to the side until the next corner, how easy are they to inspect and is there anything else I should look out for? Plus any idea for the price second hand as I've read they cant be sourced new.
Less importantly I would like to clean out the sump when I change the oil next which I have never done before, is there a gasket that needs replacing when I reattach the sump pan or do I need to use a sealant of some sort?
I'm going to replace all the hose clips as the cooling system works well and I would like to keep it that way, are there any specific ones that are hidden / hard to get to? or is it just all of them

Those are the major things on my list is there anything else obvious I should be looking at?
I'm sure other things will crop up as I go but as always your help is greatly appreciated

MattS

Clubman




Posts

: 39


Join date

: 2013-04-02


Age

: 29


Location

: Leeds



Sounds good!

To do the exhaust, often the nuts'n'bolts are really rusted and seized up. To remove them you tend to have to heat them up till they glow red, other wise you just snap them.

Noisy exhaust are often caused by blowing holes. Put your hand over the tail pipe and you'll hear the hisses where it leaks.


I was pretty busy last night so only had a chance to have a quick look

I tried covering the exhaust but couldn't hear anything obvious, I'll have a proper go tonight though.

This is starting to baffle me (no put intended) as the silencer is the cleanest bit on the exhaust, and the with the level of noise I would have thought the offending hole would be obvious.
I took a quick video, I apologize for the quality.

I'm debating ripping the heat shield off the cat as I'm starting to think the hole is hidden by it



MattS

Clubman




Posts

: 39


Join date

: 2013-04-02


Age

: 29


Location

: Leeds



Well I feel like a bit of a fool!
Took it to the garage to get a professional opinion, it turns out that there isn't a hole after all. A previous owner has gone to the effort of putting a stainless silencer on to the van, but just welded it straight onto the cat and tailpipe and something must have gone inside the silencer to make it sound like a tractor.
I was getting confused as to why my exhaust only had one flange between the manifold and the cat (compared to everything else i've seen online) but for some reason this never occurred to me, I think my mechanical ignorance is starting to show! (if it hadn't already

)
I thought i'd take a pic while the van was up if your interested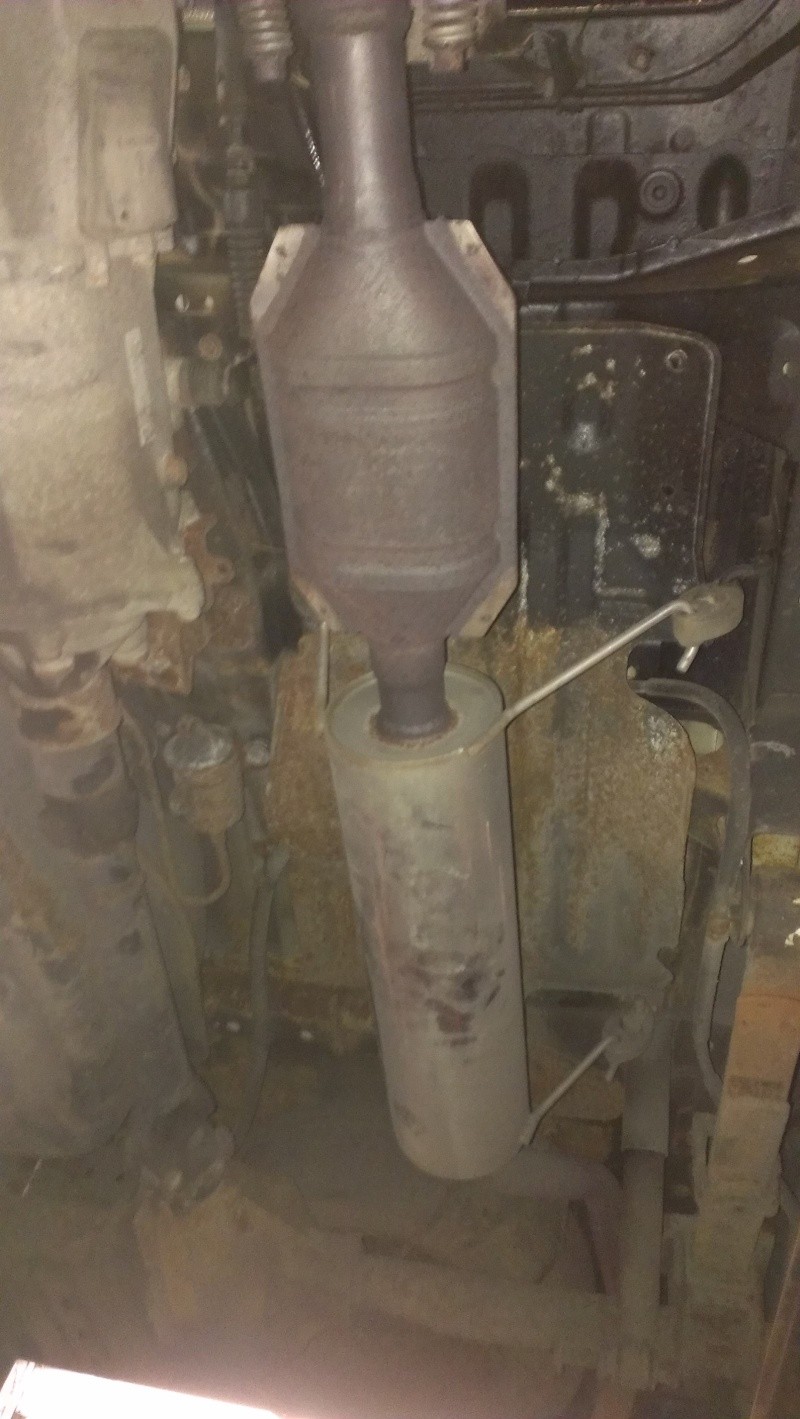 MattS

Clubman




Posts

: 39


Join date

: 2013-04-02


Age

: 29


Location

: Leeds




---
Permissions in this forum:
You
cannot
reply to topics in this forum