Hi All  

Does anyone know the location of the "pressure sensor" indicated on page EC-4 of the
Workshop Manual - Daihatsu 3 cyl 993cc EFI.pdf
? (BTW, thank you for posting that! Invaluable

)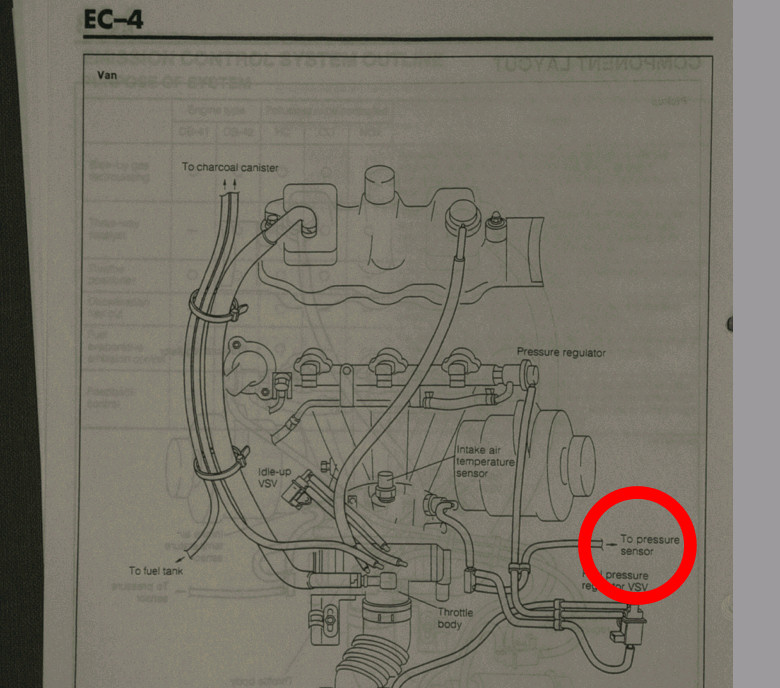 I've found a pipe that is not connected to anything and is said to go "to pressure sensor" ringed in red on the above diagram.
It's about 6 inches long and comes from the 3-way block whose other connections go to the "fuel pressure regulator VSV" and the inlet-manifold pressure sensor (at least, I'm assuming that is what it is as it's not labled on the diagram...).
With the engine running, there is a strong vacuum in this pipe and idle drops when it is blocked (I think this is the source of my 'running rich' issue  

 ).
I now have this plugged but would like to find it it's natural home.
Any help would be appreciated!
Xanda

Xanda77

Member




Posts

: 5


Join date

: 2014-10-15


Age

: 40


Location

: Devon



Pressure sensor is under the handbrake lever plastics

It is essential it is present otherwise the van will not control its fuelling and ignition timing properly.
It will also have the engine warning light on, but the bulb will probably have been removed.
Aha! Found it

Thank you!
...plug the little sucker in...and that's made a difference!
Just come back from a 200+ mile journey today and she was singing sweetly all the way.
Much better throttle response through the revs and better fuel economy too, no surprise (considering, as you say the ecu wasn't getting it's pressure signal) but very welcome!
And so we (almost inevitably, it seems) move on to the next problem... the warm idle is now pulsing up and down.. aaand the idle screw is stuck solid and so is now soaking in WD-juice for the night. I'll see if I can get it moving tmorrow... thinking it might be set low to counter the effects of the lack of pressure signal to the ecu.. wha'd'ya reckon?
Cheers again!


Xanda77

Member




Posts

: 5


Join date

: 2014-10-15


Age

: 40


Location

: Devon



If the pipe was open, it would idle really fast, so they tightened up the idle screw to the max.
I've managed to un-stick the idle screw and it
was
all the way in...
I can now unscrew it all the way out but this doesn't seem to make any difference - it still pulses the revs when warm (I've had a few looks whilst sitting at traffic lights

).
It does increase the cold idle, so at least it's working to some extent.
I've checked all the rubber pipes in the setup and they all seem to be fine, with no obvious holes or cracks... Is it time to take the throttle-body off and see if it needs cleaning do you think?
Cheers!

Xanda77

Member




Posts

: 5


Join date

: 2014-10-15


Age

: 40


Location

: Devon



You need to bleed coolant though the idle control valve

---
Permissions in this forum:
You
cannot
reply to topics in this forum