Thought it was time for a pic even if its not the best quality
Paint looks better in the picture , as its got a few stone chips and rust around the window seals but no major problems and the engine is sound.
In the process of checking and servicing things at the moment so there will be no surprises and will be reliable
Went for a MOT last week and failed
N/S dipped beam not working  ( completed today)
No door handle on O/S door   (out of stock E-bay seller)
Corroded brake front to rear
Not bad I thought at the time
I did check the lights prior  and they looked a bit dim , but thought it was a the reflectors
Found  one of the  H4 lamp connections corroded so changed them both sides and fitted new lamps , but still not right one side seemed OK the other looked like a earth fault after a lot of faffing about  and reading the forum which says there are separate fuses for N & O side headlamps  but no pictures ? Anyway finally  found the 2 10A fused ( yes the big fuse holder at the bottom of the fuse module) and one was blown Doh   but at least I now have the wiring diagram Thanks guys.
O/S Middle Door handle has been broken for a couple of weeks and had had a temp fix before
Not been able of find one   (but have changed the N/S one obtained off E-bay)
I but I had attached a pull cable as a get through the MOT but did not tell the tested , when I went to pick it up I mentioned this and the tester was unaware but would look at this on the retest.
The guy at the MOT centre was not specific just reported what was recorded on the sheet but he said we can do the work bring it back and we will have a look and quote for the works and the pipe is £ 3,50 per foot plus fitting.
Now it gets interesting   Brake pipe corroded  , my thoughts were its not a big job and why not  replace the lot so its all new and safe . Cant be that difficult as they normally run along the box section chassis rail  So ordered a Brake Pipe Kit.
Well had a better look this weekend ,  there's not a simple bend or straight pipe to be seen and they are not that accessible LOL.
The main corrosion seem to be where the pipes from the servo drop below the floor level and connect to the joint / splitter box ,
The access at the back of the Servo is very limited and the dropper pipe is the worst so it needs changing , the pipes an the joint / splitter have seen better days the easy fix is just to remove the worst and put a joint in
You may be able to see from the pic that my drive is on a slope and  having no brakes could be fun
Questions
1, How difficult is it to remove and refit the Serve and master cylinder
2, Dont mind removing the petrol tank but has anybody actually change the complete front to back brake pipes

Cromwelluk

Member




Posts

: 14


Join date

: 2015-05-26


Location

: Tamworth Staffordshire



Nice wheels...and trims: what were they off?

andy pyke

Centurion




Posts

: 270


Join date

: 2014-11-09


Age

: 50


Location

: Maidstone



Take the seats out, don't need handles

The servo/master cyl assy comes out pretty easy, Daihatsu make pretty tough brake lines, get a decent pipe slice. The f/r line is a common issue, I did mine last year(or the year before, dunno) not difficult to do, just time consuming, you'll need it up at least a foot off the ground tho for decent access.

Logi

Jet Warrior




Posts

: 3655


Join date

: 2011-04-07


Age

: 82


Location

: Kilmarnock



I got MOT place to drop tank & replace pipes on 2 vans, but did remove tank from another. It's fiddly, several small hoses to undo when you've unbolted and dropped it a bkt. Doable though, trolley jack helps.

PFM

Jet Addict




Posts

: 1496


Join date

: 2010-04-24


Age

: 57


Location

: East Sussex



Arches
http://www.ebay.co.uk/itm/SET-OF-4-CHROMED-CHROME-WHEEL-ARCHES-ARCH-TRIMS-SPATS-UNIVERSAL-FIT-NO-DRILL-/201379889122?pt=LH_DefaultDomain_3&hash=item2ee32d3fe2
Did not like them or how they fitted at first but after spending £50 on some fibreglass mini arches that do NOT fit  ended up drilling 3 holes on the top lip of the chrome arch and self tapping them to the body  but its a real simple fix and once they look ok
Wheels 15 inch type 100+ 6.5j 38mm offset milti fit 108 mm PCD fitted with wobble nuts  also fitted 2 spigots on the front 65.1-73mm I was hoping they would squeeze on the hijet hubs but had to file them a little   Not finished yet as Im looking to turn the hubs down and try and re drill the hubs to 108 pcd and fit MX5 studs
Thanks for the feedback on the Servo and brake pipe would be a lot easier with a pit or hoist LOL but still thinking of replacing all the lines
Last edited by zkin on Thu Jul 09, 2015 6:17 pm; edited 1 time in total

Cromwelluk

Member




Posts

: 14


Join date

: 2015-05-26


Location

: Tamworth Staffordshire



Tester must mark the corroded failure points with yellow crayon.

Just replace what's needs.

Lines behind fuel tank / lspv, and rear axle line is the typical failure.

These are easily accessibly.

Doing forwards of this is a pain in the arse and not required typically.
Managed to have a look and drain the tank ready for this weekend , its not going to be a quick and simple job , but it will be worth doing
Ordered some CUPRO NICKEL KUNIFER Brake pipe and one of the cheap flaring tools and had mixed results with the double flares , to be honest the Cheapo flaring tool is crap
So invested in one of these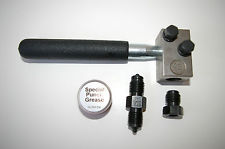 Wow what a difference easy to use perfect every time , no force required  highly recommended.
Just hoping the weather is decent

Cromwelluk

Member




Posts

: 14


Join date

: 2015-05-26


Location

: Tamworth Staffordshire



Have fun. Cheap flaring tool sounds like potential injury or death, best avoided.

PFM

Jet Addict




Posts

: 1496


Join date

: 2010-04-24


Age

: 57


Location

: East Sussex




---
Permissions in this forum:
You
cannot
reply to topics in this forum