Does anyone know how long the speedo cable is for a Piaggio porter van so I can get one made up ?
I've tried pulling the cable through from the dash end but it doesn't budge. Guess there must be some sort of fastenings under the van.
I took photos of the end that connects to the dash & of the socket it goes into as well as photos of the end other end that I recovered from the green flag chap. I just now need the length of it. Any help would be much appreciated

Penny PP

Centurion




Posts

: 113


Join date

: 2014-08-31


Age

: 49


Location

: Maidstone, Kent



The inner cable has to come out of the gearbox end Penny as the end is pegged. It can be a bit tricky due to it's close proximity to the petrol tank.

What is the problem with your speedo??
If you can't pull the cable out then it is not broken. If your speedo isn't working, are you having the engine cut out above 40 - 50mph?
If you need advice give me a call on 0786 303030 9.
You can get a new cable made up by Speedy Cables in Swansea Valley. They are very helpful and reasonably priced too.
Their phone number(s) are 01639732213 and 01639732299.
Actually Woody, funny you should say that....My engine doesn't exactly cut out but the power sometimes drops considerably. A couple of times I have had to pull over at the side of the road & if I wait a cuple of mins then it seems to be ok.
The speedo cable is def broken I have the gearbox end on my coffee table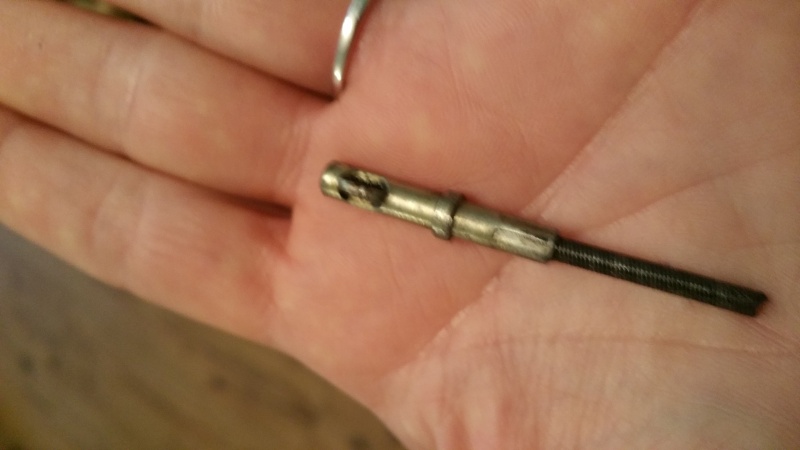 Penny PP

Centurion




Posts

: 113


Join date

: 2014-08-31


Age

: 49


Location

: Maidstone, Kent



That's a handy looking coffee table!


PFM

Jet Addict




Posts

: 1498


Join date

: 2010-04-24


Age

: 57


Location

: East Sussex



Yes that's the classic symptoms of a broken speedo cable or the speed sensor in the speedo head malfunction. The sensor tells the ECU what speed the vehicle is doing and from the RPM of the engine works out the amount of fuel to deliver to the Injection System.
Because the Speedo isn't functioning the ECU thinks that the vehicle is stationary and cuts the amount of fuel to the engine. Hence you loose power and end up in the kerb like a right Numpty, with drivers behind you cursing about women drivers while you are sat there wondering what the hell has gone wrong with the engine just ticking over and not responding to the accelerator pedal.
Then 2 minutes later the ECU resets itself and away you go again. If you keep your continuos speed down to no more than 45mph you should be ok until you can sort out a cable. If you get the other bit of inner cable out of the sheathing and give me the measurements I may have an inner cable that is the same length. Unfortunately not all cables are identical lengths due to the human element involved.
Email or text me. You can't phone me as I forgot I have Call Blocker in place. Unless you EMAIL me your name and phone number then I can put you in my Contacts list and once in there you can get through to me.
hi.jetmaniow@gmail.com
Hi I just sent you an email with my details in once I glanced my eyes across your e-mail. Now I have sat & read it fully then I see where the power loss problem is coming from. Luckily most of my driving is on 30-40mph roads......apart from today my partner starts his new job & has forgotten paperwork in his excitment so I have to drive it over to him, but just going to check out google maps to find a route avoiding the m2. Typically my sat nav gave up the ghost on Friday too :-0 I shall have another go at getting the cable out from the dash end when I get back from work later on. Fingers crossed !!


Penny PP

Centurion




Posts

: 113


Join date

: 2014-08-31


Age

: 49


Location

: Maidstone, Kent



Job done Penny. You are in my contacts list so anytime today is ok with me. You might not get hold of me this afternoon as I am working in the old Ventnor Railway Station Yard hewn out of a stone hill and to make matters worse I will be in a man made cave created 200 years ago by Napoleonic Prisoners for their own incarceration!! The signal is non existent there as one can imagine.
Never a dull moment in my life.

Cheers Raggy. The Speedy Cables thread was one of mine.  In fact I would imagine that any on here attributed to "Guest"  are one of my 1,970 previous Posts before that Prattle in America upset me. 

Mind you that is pretty easy to do isn't it anyway. But he did go over the top a bit.

---
Permissions in this forum:
You
cannot
reply to topics in this forum