Took the plunge and removed the dash unit to look at the bulbs and they were not blown but quite black. Quick trip to car shop and new bulbs fitted...not that much better! can at least see the needle now! Seen on here that some changed the bulbs for LED versions, are these brighter and better of is it a case of they are what they are and its a matter of sorting out a better way to get the light to the actual dials?

Raggy

Jet Addict




Posts

: 1238


Join date

: 2015-05-25


Age

: 54


Location

: Doncaster



LED bulb are brighter and better but above all consistent. Mine have been in for about five years now and haven't changed; it is said they will last for 25 years (without dimming I believe) so they will see the Hijet out.

They are not perfect; I have difficulty seeing the right hand digit / edge of the mileometer -- only bright sunlight seems to allow that bit to be seen properly. However, I used white LEDs, apparently one should use the same colour as the lens / filter otherwise it comes out slightly 'muddy'.

I would suggest a trip to Halfords -- they used to do some blue LEDs of the right size but they said that green ones could be ordered. (They were not in the car bulb section but in another one for customising things). If they are anything like the blue ones I would think they might be too bright but one can only try. (They were about £4 for two, you need three).

The bulb I used was a tight fit so you might need to persevere with it, it did go in.

bushwhacker

Centurion




Posts

: 310


Join date

: 2011-04-15



Will have a look, thanks.

Raggy

Jet Addict




Posts

: 1238


Join date

: 2015-05-25


Age

: 54


Location

: Doncaster



Thought I would update this thread with the latest, decided to try some small strips of LED lights inside the instrument unit. Only cost £2.98
(eBay Link)
so not a great deal if it didn't work...but its worked a treat!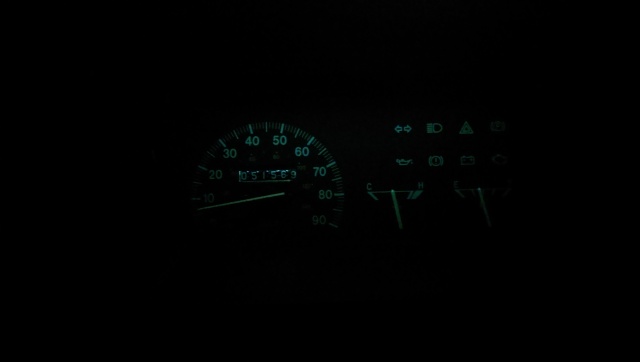 Before with brand new bulbs
New lighting with headlights not turned on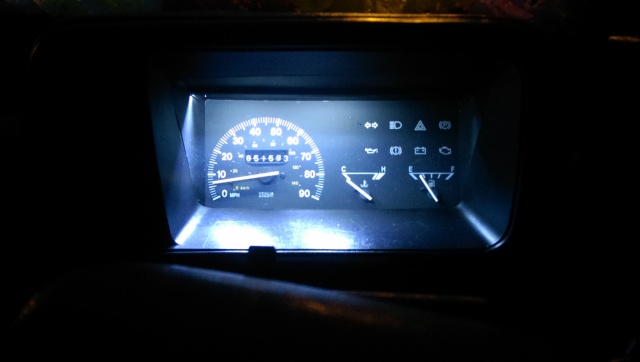 New Lighting with headlights turned on.
It looks a little brighter than it actually is as camera kept brightening the picture and couldn't find out how to turn that feature off. One thing I did notice though, and didn't notice before because they were so dim, was that the bulb over the warning lights actually gets turned off when the headlights are turned on to driving lights, which is quite handy now they are brighter for night time driving.
I wired the LED strip -ve leads into the original bulb holders and fed the LED +ve with a separate feed, so they are on so long as ignition is turned on, which is OK for dull days which don't actually need driving lights. The strips (3)  were placed above the slot that lets the light through the black surround inside the display.

Raggy

Jet Addict




Posts

: 1238


Join date

: 2015-05-25


Age

: 54


Location

: Doncaster




---
Permissions in this forum:
You
cannot
reply to topics in this forum