Hi everyone,
I'm pretty new to the forum but some of you may know that I have a little camper canned Fran. Anyway I've been doing some work on the inside and will post some pictures soon.

One of the main things I did was to change the covers for the seats as they were horrible. Like coach seat horrible. I made these myself which was wasn't too difficult.I also made new curtains and cushions to double as pillows.

To make more storage room I added some IKEA fittings that work pretty well, so they're a good pop place to look if you want to add extras.

If anyone has a camper and would like some advice on changing the interior please give me a shout, and I'd love to see some other interiors and space saving options! I'd also really like to hear how people deal with warmth and condensation.

Sara

maralions

Chatterbox




Posts

: 79


Join date

: 2015-11-12


Age

: 32



Pictures please! I have a camper 'Skylark', and was a standard camper layout which a previous owner had cut down the height of the seats to make it possible to have seating level right across the van....however that makes the main seating a little low so...taken chance to refit it totally! Not going to change much of the design, just tweak it a bit. Going to remake all furniture and cooker unit in lightweight light oak covered ply (not cheap but all helps when there is only 997cc to play with). So far I have stripped the rear to a shell, added flashband to the panels for sound deadening, added foam/foil insulation on top of that everywhere to cut down the cold from steel, then covered it all in mega stretch carpet covering. Pleased with it so far (pics in my Renovating Skylark thread hich I'm trying to keep uptodate with any work done). Going to remake cushions like you (not keen on the 'bus' seat material either), may also recover the front seats as well to match but thats a later project I think. Leisure electrics have to be redone so a bit of work to do yet before she is ready.
Love to see what others are doing.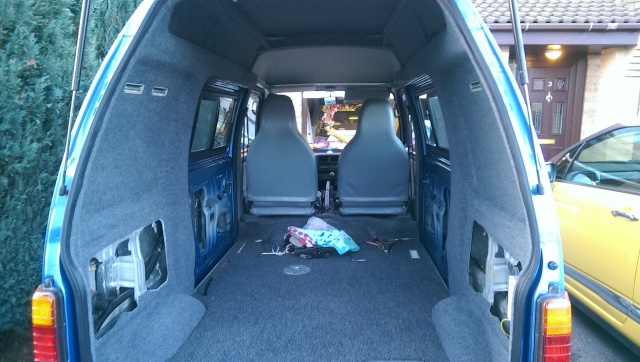 Raggy

Jet Addict




Posts

: 1179


Join date

: 2015-05-25


Age

: 54


Location

: Doncaster



Ohhhh I've just seen your other post! Looking amazing. I haven't gone that far with it... I will redo some more bits and I want to paint the kitchen bit and also replace the table which is massively heavy. I'm not home at the mo but will post pics soon!

maralions

Chatterbox




Posts

: 79


Join date

: 2015-11-12


Age

: 32



A few pics for the interior. As you can see most of it is cosmetic so far in terms of making new seats, birdy cushions/pillows and new curtains.
Sorry for the bad quality but it was *gasp* too sunny!!!!!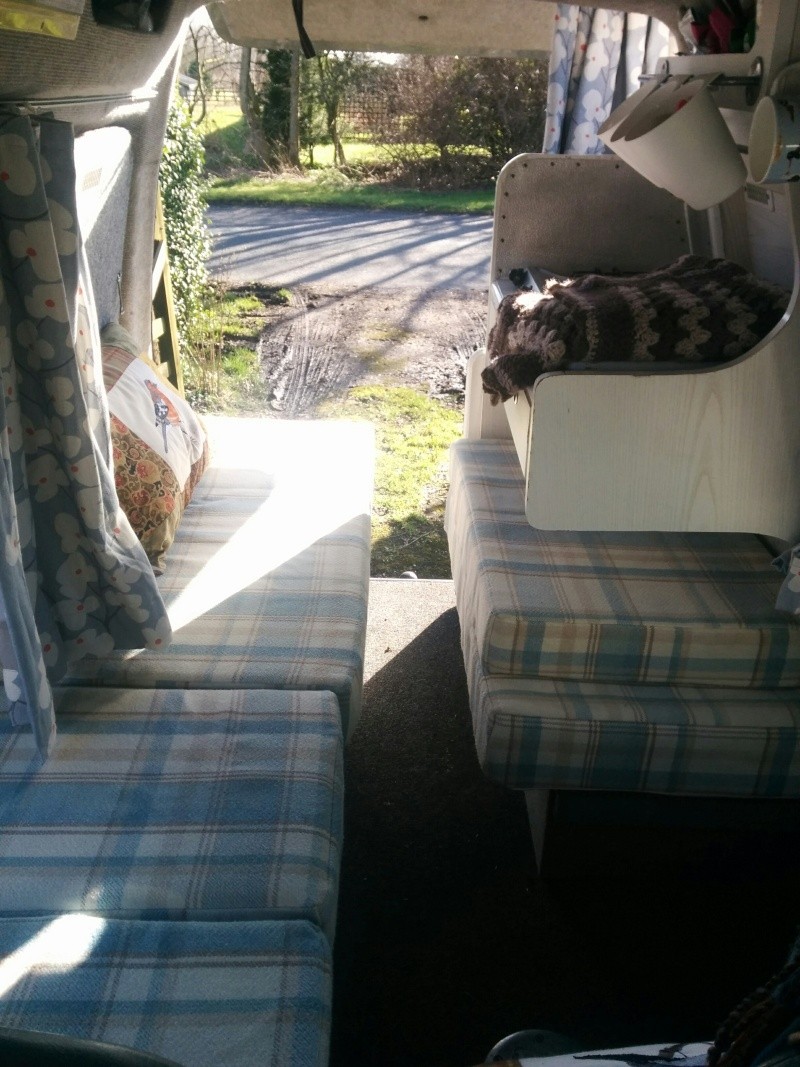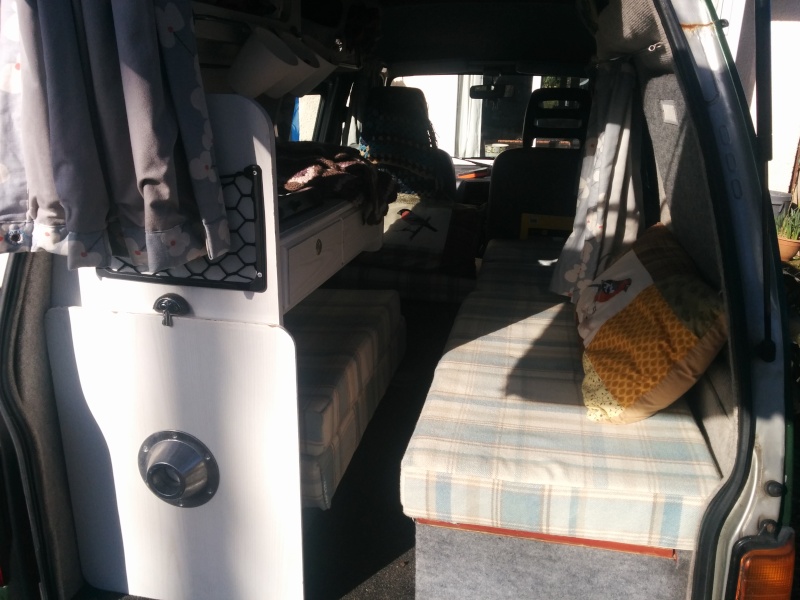 I've kept the kitchen and I've got some nifty things from IKEA to increase storage.
Planned changes:
- paint kitchen unit
- add more storage to the end - probably some other style of storage pots on a rail but the one I currently have is too long.
- add a slide out drawer under the kitchen unit
- Possibly change the carpeted bits of the units but I'm a messy walker so seems a bit silly to spend ages making it nice to then trash it
- Recover the box covers to neaten them up
- Repair the top storage thingies
-  Add some elasticated net storage. I wanted to do this in the roof but I can't drill straight through it...
Would love to hear some more ideas


maralions

Chatterbox




Posts

: 79


Join date

: 2015-11-12


Age

: 32



Yes those top storage runs are my next job (plus finishing two or three other I have already started!). Mine just didnt seem to fit properly and were only held on by the carpet covering that was pulling away. They had been remade at some point I think as the hand holes are a bit of guess work size wise. Going to try and fix mine rather than rely on wall carpet. Will post pics as I go along.
Yours looks rear seat wise how mine should be (passenger side lower than drivers) but mine had been cut down to make it all level which makes sitting a bit low, you cant raise the passenger side as there is not enough space under cooker unit then to fit legs comfortably. Hope to start back on mine by the weekend.

Nice work on the seat cushions, seen some rubbish one done before. Going to do mine in blue and cream/ivory in a leatherette trype material, has to be dog proof! Thats last of my jobs though.

Raggy

Jet Addict




Posts

: 1179


Join date

: 2015-05-25


Age

: 54


Location

: Doncaster




---
Permissions in this forum:
You
cannot
reply to topics in this forum