I broke up a K registered 993cc Carburetor model van some while ago which I bought for £50. I had loads of enquiries for the Carburetor and more than got my money back on the Carburetor alone. It had genuine Daihatsu High Back seats in surprisingly good nick.
It sat in my yard for some months before someone wanted the engine. On driving it out of its resting place into the garage to start dismantling it, I jacked it up and was amazed to find the Vented Discs.
We had on several occasions talked on the Forum about Vented Discs but none of us believed that they existed except for one Member who swore he had owned one with the Imaginary Vents. Even Matt hadn't seen them before so I think that most all of us were very sceptical - - but he was right.
So here are some pictures of the Mythical Vented Discs, post fire damage and Four Wheel Drive Machined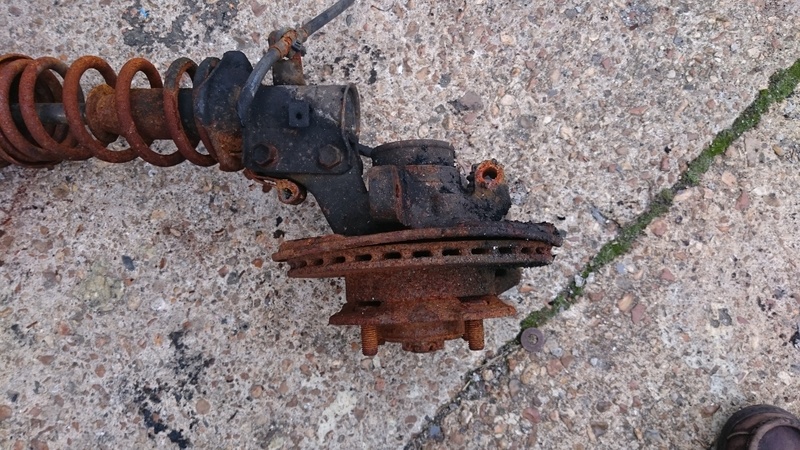 Hubs.
I feel pretty sure that it was Bushwacker that had owned the van with the Vented Discs.
Any more photos of the caliper at the front?
I don't know if the vented ones are still available Matt, but I remember in the discussions we had online someone said that when he had gone to order some new discs at his local Motor Factors they asked if the discs were solid or vented and that is how the Thread started.
But yes the calipers are the same as the solid disced ones as the vented disc is virtually the same thickness as the solid.

I did email you pictures of them a couple of years ago when I discovered what I had found.
Ahh yes, I remember now. Slept since then.

Yours supposed to be the old forgetful one.
Long term memory is still pretty good. I can remember that I need feeding 3 or four times a day. Always forget how to cook when Gayle is at home, but every month when she goes up to Peterborough to look after her mum I can remember how to cook some pretty good tasty meals and huge sickly puddings for myself.
But the two strokes have played havoc with my short term memory. Keep getting stuck for words mid-conversation, and my my selective hearing is so terrible.

Remind me, who did you say you were??

Woodie wrote:I feel pretty sure that it  was Bushwacker that had owned the van with the Vented Discs.
Not me guv.
Might they not have been transferred from another vehicle as a custom modification?

bushwhacker

Centurion




Posts

: 310


Join date

: 2011-04-15



Oh OK BW. Perhaps it was 8-Bit-Ash then. He did some really major lowering mods on his red van. It was a one of our regular contributors and none of us had known about the Vents at the time. Apologies for taking your name in vain

bushwhacker

Centurion




Posts

: 310


Join date

: 2011-04-15




---
Permissions in this forum:
You
cannot
reply to topics in this forum