hi all, new to the forum so be gentle with me! had a piaggio porter for for about 8 years now (so have a bit of experience that hopefully i can pass on if needed), 1st a white one that some toerag decided to nick, and now a blue one hence the username! love these vans and ideal for what i use it for, mainly fishing and taking the dog over the forest (missus won't let him in her prius when he's wet and muddy, women for you?) so thats about it, thank you.....

ex-whitevanman

Member




Posts

: 6


Join date

: 2017-02-08


Age

: 50


Location

: the east end innit!



Wet dog stink is the best kind of dog stink!

GEORDIE

Chatterbox




Posts

: 90


Join date

: 2012-06-06


Age

: 74


Location

: NR.SCUNTHORPE



Sorry!!  Can't  break with  tradition.  Newbie.  Gotta take the Mickey especially  with  " My Other Car is A Prius".  I mean come on,  that's just leaving yourself wide open to having the Mickey taken.
Around here, Our Hybrid  motors are much more Butch. THEY run on Petrol AND LPG.  Not Petrol and
Pen-light  Batteries.  Incidentally,  do you,  or any other member,  know what the World's first Hybrid Production Car was and when it first went into production??  You will be surprised.
So what do we call you?  WhiteVanMan is too long  so is it to be W.V.M. or Nick coz your useless dirty smelly dog didn't earn his food and made a, whole "Dogs Dinner" of protecting your Sacred Property. I'd of had him made into tinned Dog Food if he let anyone "Nick"  my MPV.
Where do you hail from Nick?  You don't mention that and it is always handy to know as you might have a Forum member living near to you - - and then they can decide whether to move out of the area or not.!!
Back on the " Touchy subject"  of "My Other Car is a Toyota Prius", the World's first Hybrid car was not surprisingly designed by  a certain 24 years old  'Ferdinand Porche'. The prototype was Front Wheel Drive with the Electric Motors built into the wheel hubs.
The production car was Four Wheel Drive and was a little short of Sensational for its time,  with an Electric Motor in each Hub and  had a Petrol Engine driving an 80volt Dynamo charging up the Batteries.
The Prototype Model was first released to an amazed Public in 1899 and the Production Four Wheel Drive  model went on sale in 1900. It was known as the Lohner-Porche, as it was built by the Viennese Coach Building Company of Lohhner.  I suppose the lucky new owner could ask his friends -  Would you like to come for a "Whirl"  in my new car.  

Last edited by Woodie on Thu Feb 09, 2017 7:02 am; edited 1 time in total
How about this  Electric MPV then.  It is called the IDEA KAZ.  It has a 74bhp electric motor in each of its 8 wheels  developing  a total of 580bhp supplied by 84 Lithium - Ion Batteries and bearing in mind that this was built 16 years ago so Lithium - Ion was a very advanced battery for its time.
Needless to say, it was designed and built in Japan with body designed in Turin.  It had a range of 186 miles and a top speed of  193MPH!!      16 years ago  !!!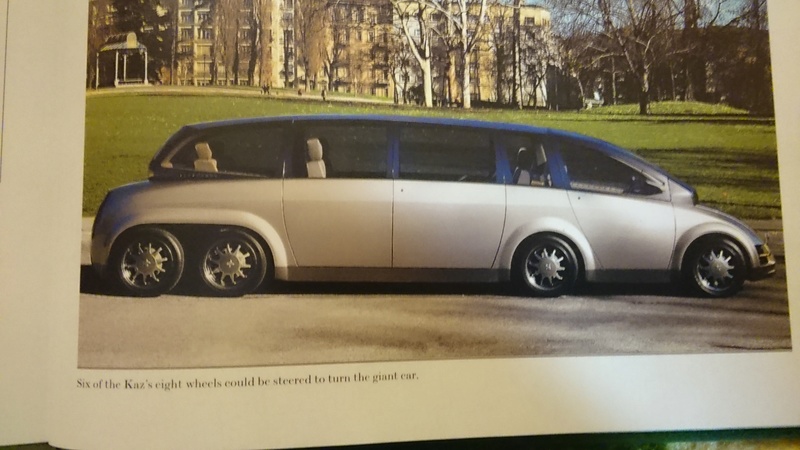 Last edited by Woodie on Thu Feb 09, 2017 4:19 pm; edited 1 time in total
The 1900 Lohner - Porche Hybrid Four Wheel Drive.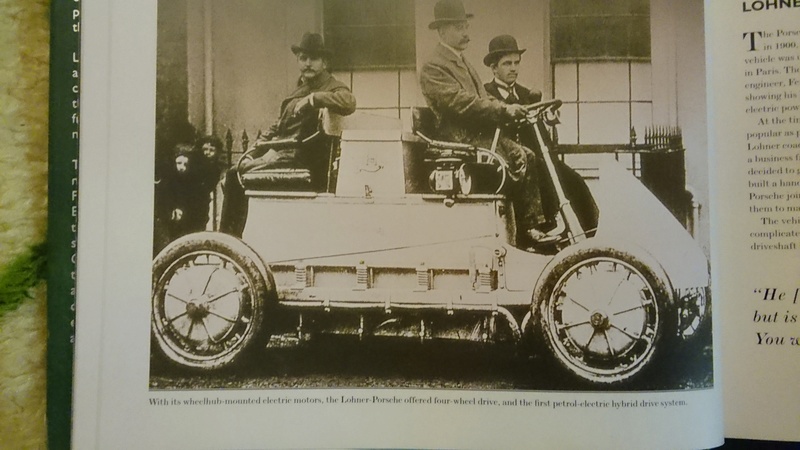 welcome


scotia

Cinquecento




Posts

: 541


Join date

: 2014-01-27


Age

: 36


Location

: twente



lol.....going to enjoy this forum! thanks for the welcome, yes i knew the 1st 'prius' was built by porsche over 100 years ago (was a programme on telly about it a while back) but could not find to one of those in exchange & mart so went for toyota's model instead, never had the dog when the white van was nicked so can't really hold him responsible for that as he was only a glint in his fathers eye at the time and finally i am from east london, born and bred, within the sound of the bow bells, and now near walthamstow reservoirs.
Last edited by ex-whitevanman on Thu Feb 09, 2017 11:36 am; edited 1 time in total (Reason for editing : typo)

ex-whitevanman

Member




Posts

: 6


Join date

: 2017-02-08


Age

: 50


Location

: the east end innit!



Welcome to the forum...that was a gentle welcome from Woodie!

Raggy

Cinquecento




Posts

: 647


Join date

: 2015-05-25


Age

: 53


Location

: Doncaster




Logi

Jet Warrior




Posts

: 3489


Join date

: 2011-04-07


Age

: 81


Location

: Kilmarnock



Thank you Raggy. Must have been in a good mood. Better try and upset SOMEONE then. Do you think that I should mention about the WD4O or should I just keep quiet.??

---
Permissions in this forum:
You
cannot
reply to topics in this forum