Hi everybody. My mind has been made and my heart has been set - I want to buy a Hijet.

I'm currently looking at one - its a 993 cc that im being told can sometimes overheat on long journeys. I dont even drive yet and have only limited knowledge of car mechanics. The major appeal of this particular Hijet lays in the fact that its an mpv with 4 seats in the back that fold upward into the sides and front to easily make space up to use as a van which is perfect.

from all my research on the net and looking through this invaluable forum I think i would much rather have 1.3. Are the 1.3 mpv versions rare? What do you guys think about converting the panel van into mpv? im just wondering if its worth me buying a decent 1.3 panel van to convert, an how hard that would be... Or go for this 993 cc and try and fix this overheating issue... hmm.

Many thanks.

al kaline

Chatterbox




Posts

: 75


Join date

: 2017-06-30



Hello Mr Kaline. I'm generally known as Mr Ascerbic. There are several of us regulars on here with a similar wit.

Well first of all Al, you can't properly convert the van into an MPV for a number of reasons.(1) There are no holes in the floor with capsulated nuts on plates welded to the underside of the floor for mounting the middle seats.
(2)There are no Seat belt mounting points anywhere in the back. They are factory fitted one top mount on each of the middle pillars and the same on the rear pillars. (3) There are no mounting points for the folding rear seats or the two seat catches welded on the rear wheel arches. (4) Not so important but you won't have two glass Sun roofs already fitted. (5) You won't have the rear quarter windows. (6) You won't have the side doors with Windup Windows. Shall I go on??

The amount of money and time you would spend would be ludicrous. Generally a set of the rear seats can make £150 - £200 just for a starter.

If the van you are looking at is in tidy condition and reasonably priced it sounds ideal. You being a learner driver and once you have passed your test, then it being a 993cc it will be cheaper to insure and tax. ( a self converted van would be a pain to get insured and if you hadn't told them so your insurance would well be be null and void when you get found out after an accident that may not have been your fault and you and your passengers won't be covered. Think about that alone!!
We have had this discussion on here many times.)

If the van you are looking at needs some work then spend your money on sorting that out. More times than not, it is just the two Radcaps, one under the passenger seat and one on the Radiator need to be replaced at a maximum cost of a tenner and the whole Coolant system pressure
bleeding properly and the problem is sorted.

You don't say where you live or if the MPV is a private sale, Motor Trader, E-bay or whatever. More details needed Al.

Don't be put off by some of the stories you hear about overheating Hi-Jets. Most of the time it is down to Garages that haven't got a clue how to bleed the cooling system and come up with " Yor Ed gaskit's gawn mate". Gonna cost you a fortune. I have had a number of Hi-Jets where that was the case and I put 2 new radiator caps on and bled the cooling system thoroughly and they are still running fine today. Find out some more details and get back here on the Forum and hopefully we can guide you through the learning curve of Hi-Jet ownership.
They are great fun, useful vehicles and at 67 I much prefer my 1300 MPV to any of my cars.
Thanks for your very useful and encouraging reply Mr Ascerbic and also nice to meet you.
There really is just something about these Hi-jets that I love.
I live in Hertfordshire, the one I'm interested in is in London, private seller, I hope reasonably priced. Aesthetically looks like its in good nick (no rust or dents etc), MOT till January 2018. It has 111 thousand miles on the clock (This is among the higher mileages I have seen of the hijets)
Although i think id prefer the 1.3 engine, this particular rear seating set up is ideal for what I want, here are some pictures: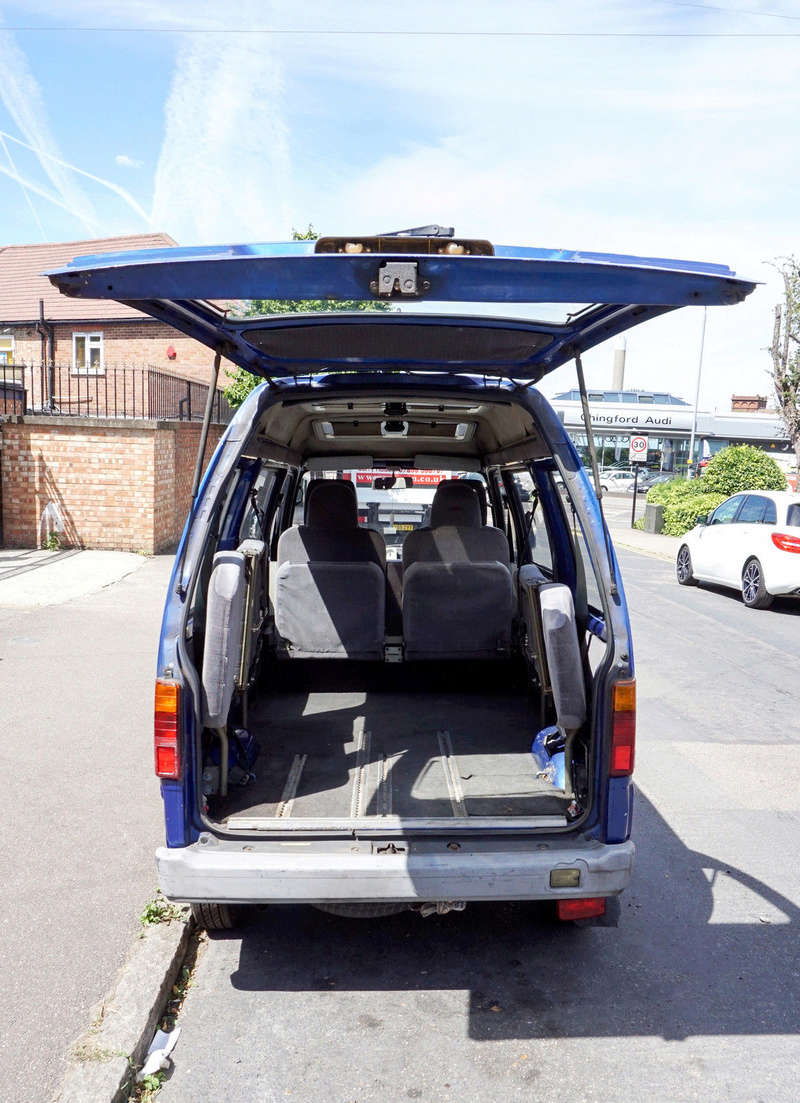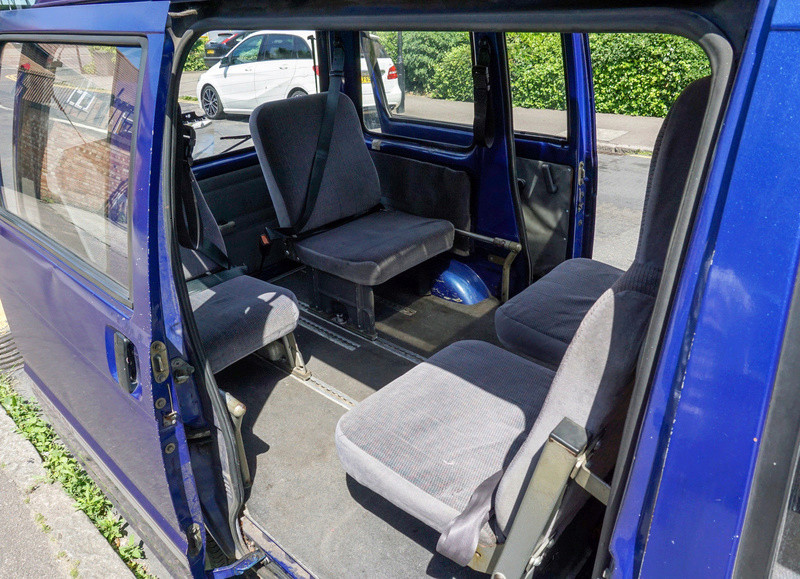 Is this set up rare?
Many Thanks.

al kaline

Chatterbox




Posts

: 75


Join date

: 2017-06-30



Hi, Al, welcome from another in Hertfordshire , I own the green weenybago. I like the seat set up in that, I don't recal seeing ones that face backwards before
Well I haven't seen one like that seating arrangement before and I have broken and bought and sold hundreds of Hi-Jets since 2003. Wonder if it is an import or a Coach built Mobility vehicle. Normal they have a pair of tilt forward seats and the rear seat is a fold up bench seat. Very unusual to have the middle seats backwards facing although the original Daihatsu fold forwards seats can be unbolted and turned round 180. The Green MPV I bought for £250. I had some pictures of the interior but I can't find it on here.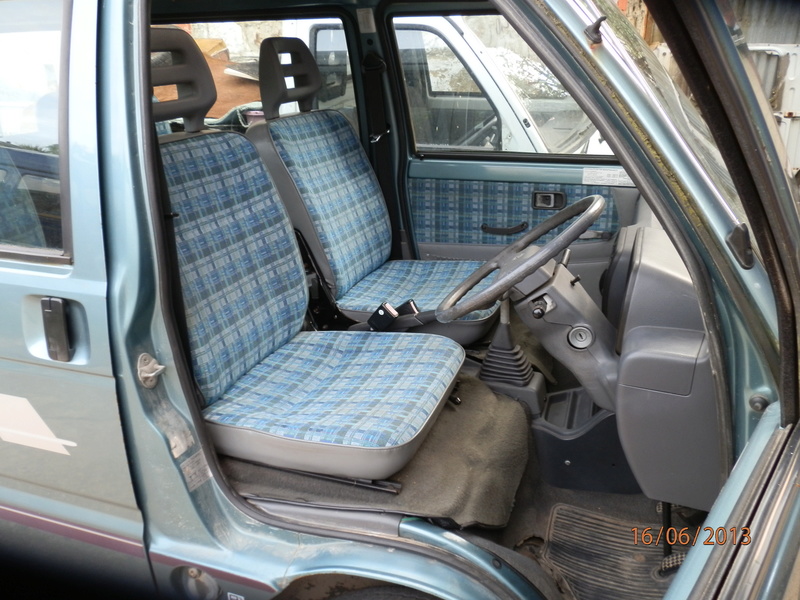 You have found a pretty rare beast there with the adjustable runners in the floor. 111,000 is a reasonable amount of miles but check and see how near the Mot limits the emissions are. If they aren't too close then it could be good buy. You need to take it for a good 10 mile run and keep an eye on the temperature gauge with it running bang in the middle of the gauge.
My own 03 Plate MPV was a Mobility Conversion with a two piece folding ramp and a 12v winch to pull up a wheel chair. It has side panoramic windows in the roof directly above the sliding doors. I have put the original middle seats back in and removed the folding bench seat. That way I can get my tools in the back including a heavy tool box, a 3 ton jack and spare alloy wheel and a 240v Compressor then above that a genuine Daihatsu load shelf with up to six Power Tools boxes. And you can still carry two passengers in the middle seats.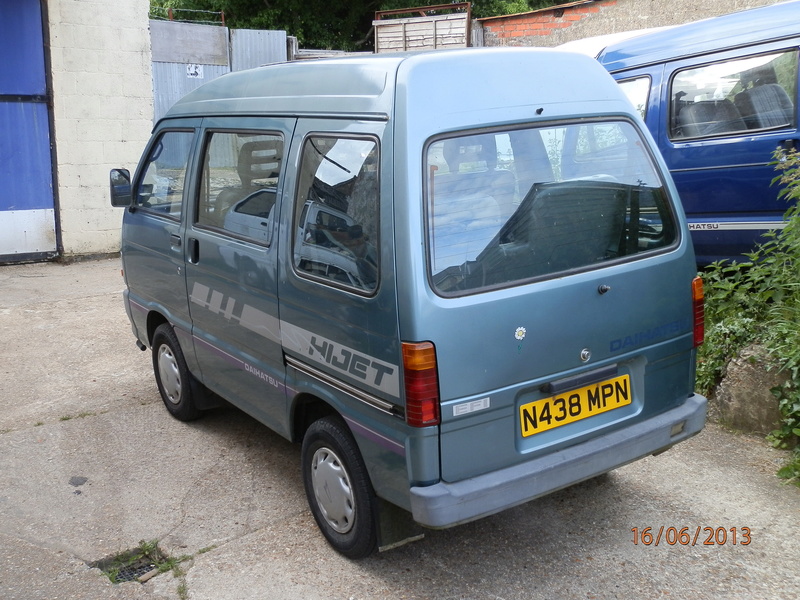 Wow, nice looking Hijets. I dont think i'll be quite lucky enough to get mine that cheap. So the seating arrangement back there is as rare as i thought... Is it possible with these to swap the 993cc engine with a 1.3?

al kaline

Chatterbox




Posts

: 75


Join date

: 2017-06-30



Simple answer...no. Not a practical swap at all, too many things are different. If you want a 1.3 buy a 1.3

Raggy

Jet Addict




Posts

: 1200


Join date

: 2015-05-25


Age

: 54


Location

: Doncaster



Ah... that's a shame. The hijet is a strange beauty. Thanks for the welcomefellow Hertfordshirean elfin. From what ive seen from browsing through past postings in this forum, the weenygabo looks like one to be proud of


al kaline

Chatterbox




Posts

: 75


Join date

: 2017-06-30



al kaline wrote:Ah... that's a shame. The hijet is a strange beauty. Thanks for the welcomefellow Hertfordshirean elfin.  From what ive seen from browsing through past postings in this forum, the weenygabo looks like one to be proud of
Thanks, it's a love/hate relationship

at the moment I'm loving it, even though I'm likely to need a new catalytic converter soon

I wish i had more time to spend on it I have so many little cosmetic things I'd like to do to make it look nice but alway end up just doing the bare necessities to keep it on the road and safe

---
Permissions in this forum:
You
cannot
reply to topics in this forum