Minding my own business living the Hijet dream when some woman decides to not look where she's going and ploughs into me from the back crushing me forward into some other car. Poor Hettie. I was just about to get her kitted up with some bullbars too which would have maybe saved her from the warping and lopsiding of her face. I think it's quite bad. You can see the front has warped when going under and seeing the radiator sits at a 24 degree angle from the bottom bar. The whole front has been left slightly warped. The dash board compartment won't close plush and thus won't shut at all and the steering housing has come apart at the seems. There also appears to be a slow leak of coolant. The rear bumper is hanging on by its finger tips and the boot door is jammed shut. I think the actual floor of the Hijet at the back has been dented inward.
I don't know how fixable these things are. I just sorted the overheating out and she's been driving like a dream. After fitting an over ride fan switch was gonna start on the cosmetic side of things. Such a shame if she has to get scrapped over this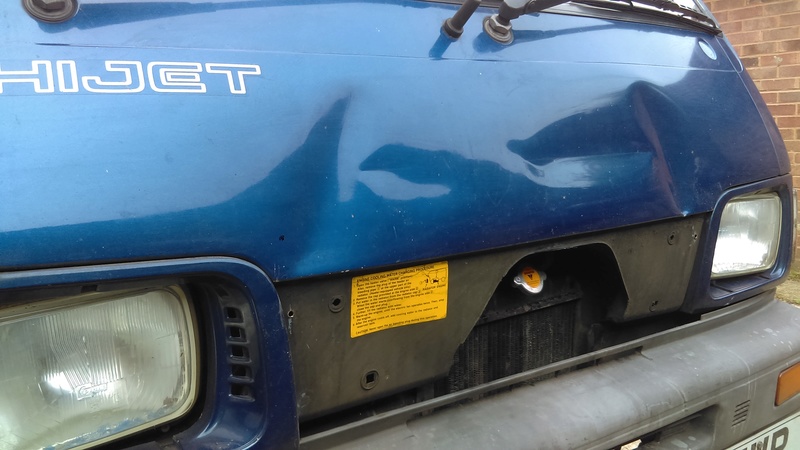 al kaline

Chatterbox




Posts

: 60


Join date

: 2017-06-30



Oh No, not good that, biggest fear I have. Not sur how fixable that would be and if insurance would even cover it. Maybe some more pics of other damage for others to make a better assessment. Did she accept liability? Where you driving or stopped?

Raggy

Cinquecento




Posts

: 961


Join date

: 2015-05-25


Age

: 54


Location

: Doncaster




al kaline

Chatterbox




Posts

: 60


Join date

: 2017-06-30



I had stopped with the traffic ahed. She hit me from the back and played dumb and innocent like she was unsure of what happened. I guess liability on her will be implied as she hit me. I have been unable to contact her insurance as it keeps going to answer phone but have left a message... I'm guessing because of the structural damage it'll be put down as a write off. But I hope it's some how fixable by some one out there...

al kaline

Chatterbox




Posts

: 60


Join date

: 2017-06-30



Really sorry to see that Al. I think that sadly even if you had a 1300 that the damage that Hetty has sustained, it would be an insurance write off.
I didn't realise that you had a 993cc van. The Fan override kit I supply is ONLY for the 1300 models. I did stress that in the post about it.
Whatever you do DON'T take the Insurance companie's first offer. Refuse it and fight them over it. They always offer low at first.

Put the money towards a 1300 van - - when you eventually get it. As you were stationary and she ran into you, the blame lays 100% on her. The car that you were pushed into will probably have to claim off your insurance - unless they have got some sensible plans in place - but I doubt it.
It happened to me some years ago when I stopped in pole position at a zebra crossing. Fortunately the pedestrian hadn't started to cross when a young guy in a bmw 3-series decided hitting my rear was a better option than his brake pedal. Insurance write off, and many phone calls to his insurers to get a half decent offer. Look around to see what you need to spend to get a similar van, thats your starting point. Fortunately only my rear was damaged, I bought it as salvage and got local firm to fix bodywork with a s/h tailgate. Might be trickier with your frontal damage though. Good luck!

PFM

Jet Addict




Posts

: 1466


Join date

: 2010-04-24


Age

: 56


Location

: East Sussex



I've been watching some videos on YouTube of chassis straightening and I am hoping I can put the money toward that. There's no mechanical damage. From what I can tell now she lost her jubilee clip from off the heater bleed nipple that's why there was a bit of coolant leaking. It would be an awful shame to scrap her with her rare and totally practical back seat set up. (All the seats fold away to sides and front to create van space in a matter of seconds)... I am just hoping the repairs is doable by some one out there.


al kaline

Chatterbox




Posts

: 60


Join date

: 2017-06-30



that's the spirit, would hate to see another hijet off to the place in the sky

buttondup

Chatterbox




Posts

: 55


Join date

: 2016-06-18


Age

: 36


Location

: Cullompton



Yes I had forgotten about it being a very unusual layout MPV.

Definitely obtain as much out of the Insurance company. After all it was not your fault and they should provide a hire vehicle for you. If they do, then they will want to settle the claim pretty quickly.
---
Permissions in this forum:
You
cannot
reply to topics in this forum