My truck is a 1.3 duel fuel and when I bought it I ran it home from Birmingham to Essex on the petrol as have never used duel fuel before. On the run home it drove great but I noticed the thermostat doing funny things and the heater playing up .. (have sorted that for now by cleaning the radiator cap) , but the problem is when I switched it to gas on a short run recently it very quickly got to the red on the temperature gauge, and talking to the guy that had it previously he mentioned he only ever ran it a few miles on gas due to it running hot on gas.

Question is .. Do they run hotter on the gas normally? (guessing not as hot as it did get)
Has anyone else had similar problems that may have a clue to what might be wrong?

minimouse

Chatterbox




Posts

: 78


Join date

: 2012-02-17


Location

: Essex



There should be no difference whether running on gas or petrol, certainly for things such as engine temperature.

Sorry that I cannot be of more help but mine runs just the same on either type of fuel.

bushwhacker

Centurion




Posts

: 310


Join date

: 2011-04-15



Hello, i'm no LPG expert but these things all work on the same old tricks.
I bet its getting hot because its running very lean (e.g. not enough fuel - sorry if i'm patronising you)
You can check the state of the mixture because hijets have a lambda sensor in the exhaust, it measures the oxygen content of the exhaust gases. If there is left over oxygen going down the exhaust then there isn't enough petrol/fuel going in - if there is no oxygen what so ever then its running too rich. 14.7:1 is the perfect ratio for petrol to burn, 14.7 parts air to 1 part petrol - see graph below to see the voltages compared to the ratios:-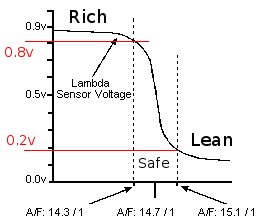 What you need to do is get some way to read the output from the sensor. The sensor makes a signal between 0 volts and 1 volt depending on the mixture its reading. LPG doesn't burn quite the same as petrol, it requires between 15.6:1 and 15.8:1, but the lambda sensor will still keep you in the right ball park.
You need a multimeter - less than a tenner to buy brand new.
Connect the red probe to the signal wire on the lambda sensor, and the black probe to the bodyshell or ground or negative terminal on the battery. Take it for a drive on petrol, make sure the sensor is working. It should flutter between 0.25 volts and 0.8volts if its working. Keep in mind the sensor has to get upto about 500 degree centigrade for it to work, this can take a 5 minute drive. If you can't work out which wires are the signal I will check mine and tell you which colours it is on mine, please see this diagram I have made/altered for you.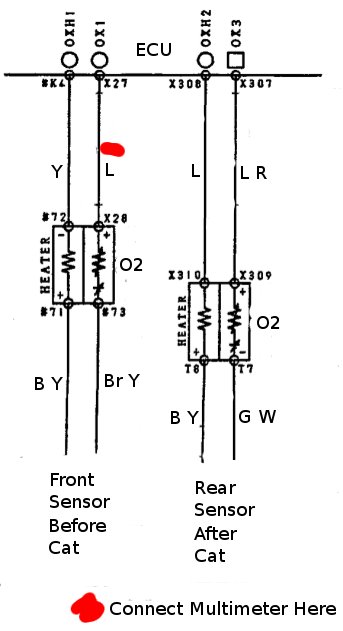 Change it over to gas while your driving, and I bet the reading drops right down to 0.1 volt or something really low.
If that is the case, you need to find out why it isn't fueling the gas mixture right.
Most gas conversions I have messed with (I have never touched a hijet lpg yet) have a demand regulator, this uses the vacume pressure of the inlet manifold to increase the lpg gas flow as the demand/load requires.
Check the pipe work, suck and blow on the demand reg pipe to see if you can feel the diaphragm inside moving.
The demand reg usually has a mixture setup screw on it. Remember where you start from and try to increase the mixture to see if this helps, using your multimeter to watch the lambda sensors output.
That demand regulator may have seized up, strip it down and have a look, but isolate any gas feed first or you may have a big booming accident!!
Don't be too scared of LPG setups, just like petrol it is highly flammable, but it escapes much easier.
I also have no experiance of LPG but did do some research on it and the one thing I noticed if you are going to work on it is make sure it is isolated as it will freeze you bloddy fast and it ain't going to recover a bit like liquid nitrogen.
Thanks for the responses, I will print them off later then hand them over to the o/h.. I can do a lot of things but willing to admit that looks like it's out of my comfort zone

I will post the results of any findings.

HJ could you check the wire colours for me please. (no rush for when, think it will be looked at over the weekend briefly then more in depth after that)

minimouse

Chatterbox




Posts

: 78


Join date

: 2012-02-17


Location

: Essex




---
Permissions in this forum:
You
cannot
reply to topics in this forum